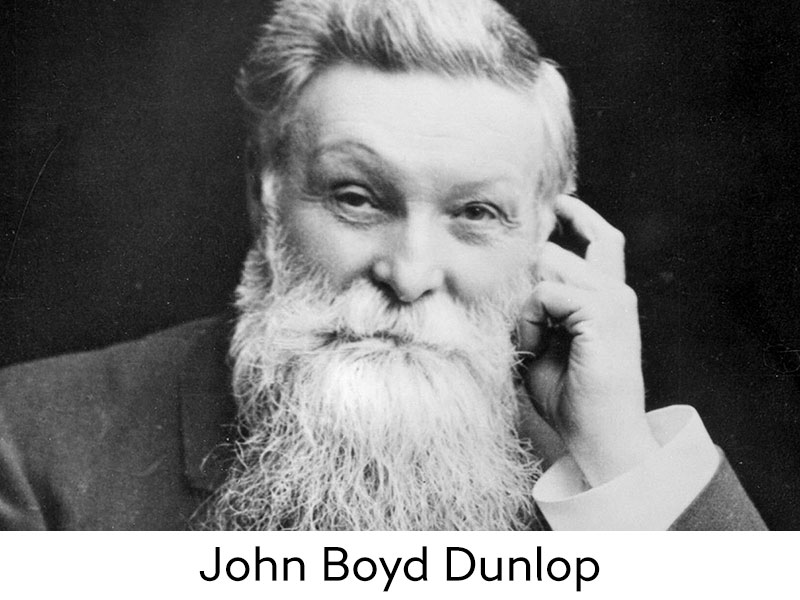 The Dunlop brand is one of the most well-known and iconic brands in the world, with years of tradition preceding today's portfolio of bearings, power transmission and linkage products.
The story begins in 1888 Dunlop's founder, John Boyd Dunlop, was watching his young son riding his tricycle on solid rubber tyres over cobbled ground. He noticed that his little boy was not going very fast and did not seem very comfortable.
John Boyd Dunlop (1840 – 1922) invented the pneumatic tyre in 1888, Dunlop went on to market his design, initially for bicycles but the company that bore his name were soon making tyres for the new motor cars that were emerging in the 1890s. Since his time, one shining thread has run throughout Dunlop's long history: pride in being the pioneer, innovating and giving birth to one world's first after another.
Thanks to their original technologies and our unmatched ability to get closer to people (intuitively understand human needs), the Dunlop brand has earned trust delivering reliability/safety and peace of mind time and time again.

The Dunlop brand today
Today, this unique DNA is still present more than 130-years later, the Dunlop brand and logo are a symbol of quality and reliability in a wide range of industries, all having a long historical association with the brand.
These industries include:

Automotive ♦ Aerospace ♦ Agricultural ♦ Industrial products ♦ Leisure ♦ Sports equipment
Our extensive range of Bearings, Power Transmission and Linkage products continues this historical heritage as the market leaders within the industry.